LRGS WORKSHOP ON KENAF: SUSTAINABLE MATERIALS IN AUTOMOTIVE INDUSTRY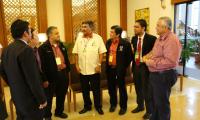 25-28 December 2012,Tok Aman Bali Beach Resort Kelantan.This workshop was attended by 45 experts from National Kenaf and Tobacco Board (LKTN), Universiti Sains Malaysia (USM), Universiti Kebangsaan Malaysia (UKM), Universiti Putra Malaysia (UPM), University of Malaya (UM), Universiti Teknologi Mara (UiTM), Universiti Teknologi Malaysia (UTM), Universiti Malaysia Kelantan (UMK), Proton, Perodua and Malaysia Automotive Institute (MAI). This workshop was opened by Y. Bhg. Datuk Ahmad Loman from LKTN on 26th December 2012.
---
The workshop provided an opportunity for information exchange, regarding the research and developments of kenaf fibres composites, and for detailed discussion of many of the issues being addressed as part of the development of these green composites in automotive applications. In this workshop, both of the experts from the academic sector and the industrial sector discussed and exchanged their opinions regarding the potential of kenaf fibres-filled green composites in the automotive applications. Such linkages and interactions encourage not only an exchange of research ideas, but also the creation of a dynamic pro-active scientific community.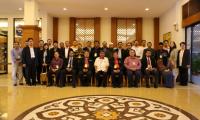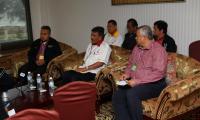 In this workshop, the leaders of each LRGS team delivered their presentations on the progress of their research work and the current issues in the related field. Besides that, round table discussions were also carried out to enable the LRGS members to express their opinions and ideas in further improving the current research work, and setting up the new work plan for the up-coming year.